Strengthen Your Core with Physical Therapy in Anchorage
Strengthen Your Core with Physical Therapy in Anchorage
Written By Preferred Medical and Rehab on August 28, 2020
---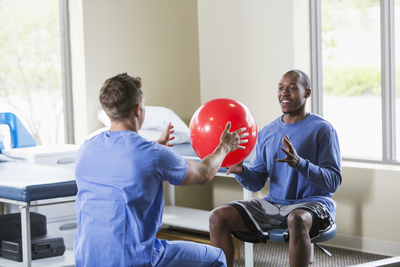 What do you think of when you hear someone say they're working their "core muscles"?
You might think of people with six-pack abs running down the beach in skimpy bathing suits – and you wouldn't necessarily be wrong.
Having strong abdominal muscles can make you look great, but strengthening exercises can also be a powerful form of physical therapy.
Core Strengthening Exercises – Why Your Abs Are so Important
The abdominal muscles act as a support system for your entire body, including your back. Strong abs:
Stabilize your torso
Promote proper posture
Reduce your risk of injury
Back pain and injuries are often due to weak abdominal muscles. When these muscles are weak, the other structures that support your spine – including your back muscles – work harder and are more likely to be strained.
Improve Your Strength with Physical Therapy in Anchorage
Whether you're trying to recover from a back injury or prevent one, an Anchorage physical therapy session will include a combination of strengthening exercises and stretching exercises.
Stretching your core muscles is just as important as strengthening them. Because your abdominal muscles do so much work stabilizing the body, they can get tight really quickly. Tight muscles can spasm, causing pain. They can also limit mobility, and that lack of flexibility can lead to pain and is a risk factor for injury.
Recommended Exercises for Strength and Flexibility
With so many exercises out there to help with strength and flexibility, it can be hard to know where to start. That's why we have a few suggestions to help you get started on the right foot.
Core strengthening exercises include:
Crunches (standing, sitting, or lying down)
The Bridge
Plank
Supine toe taps
Bicycle crunches
Abdominal stretching exercises:
Lunge with a spinal twist
Side bend stretch
Cat-cow stretch
Cobra pose
Physical Therapy Treatment Can Keep You Healthy
Physical therapy in Anchorage can be an essential investment in your health. Your team at Preferred Medical and Rehab will work hard to find the best strengthening and stretching exercises that will help heal your body and prevent further injuries.
The chiropractors and physical therapists live active lives and want to make sure you're physically able to do so as well. With regular appointments, as well as exercises you can do at home, you'll feel healthier and stronger than ever!
Do you want to feel stronger and reduce your risk of injury? Contact us today at 907-333-6525 to learn more about our physical therapy services or to schedule an appointment.

Posted In: Chiropractic Physical Therapy